Venjakob Industrial Convection Ovens

Unrivalled drying results with an electric industrial oven
We offer you a range of industrial convection ovens for especially efficient drying of freshly coated industrial products. This process dries goods by supplying heat and removing moisture. Our circulating air ovens are tailored to a variety of object, coating, and material types, so that the ideal results can be achieved even with a large range of products.
Modular industrial convection ovens for individual requirements
Venjakob systems feature a modular design, allowing us to effectively tailor the drying oven to our customers' specific requirements. They're also versatile and can be expanded with other industrial ovens such as UV curing systems and infrared paint curing systems at any time to accommodate changing requirements in the production process.
Venjakob's industrial circulating air dryers come in a variety of models for a whole host of requirements
Our experienced employees will be happy to advise you on which system models would be the most suitable for your process. The multi-level and vertical models of Venjakob's industrial circulating air dryers save space and offer high capacities. Depending on requirements, they can be operated with longitudinal or cross ventilation. A sophisticated ventilation system ensures even ventilation along all of the parts in the dryer. Our industrial convection ovens are available with or without belt pallets and, depending on the configuration, offer maximum flexibility. Thanks to sophisticated Venjakob control technology, dryer models can be automatically filled and emptied and the drying times individually adjusted for each batch.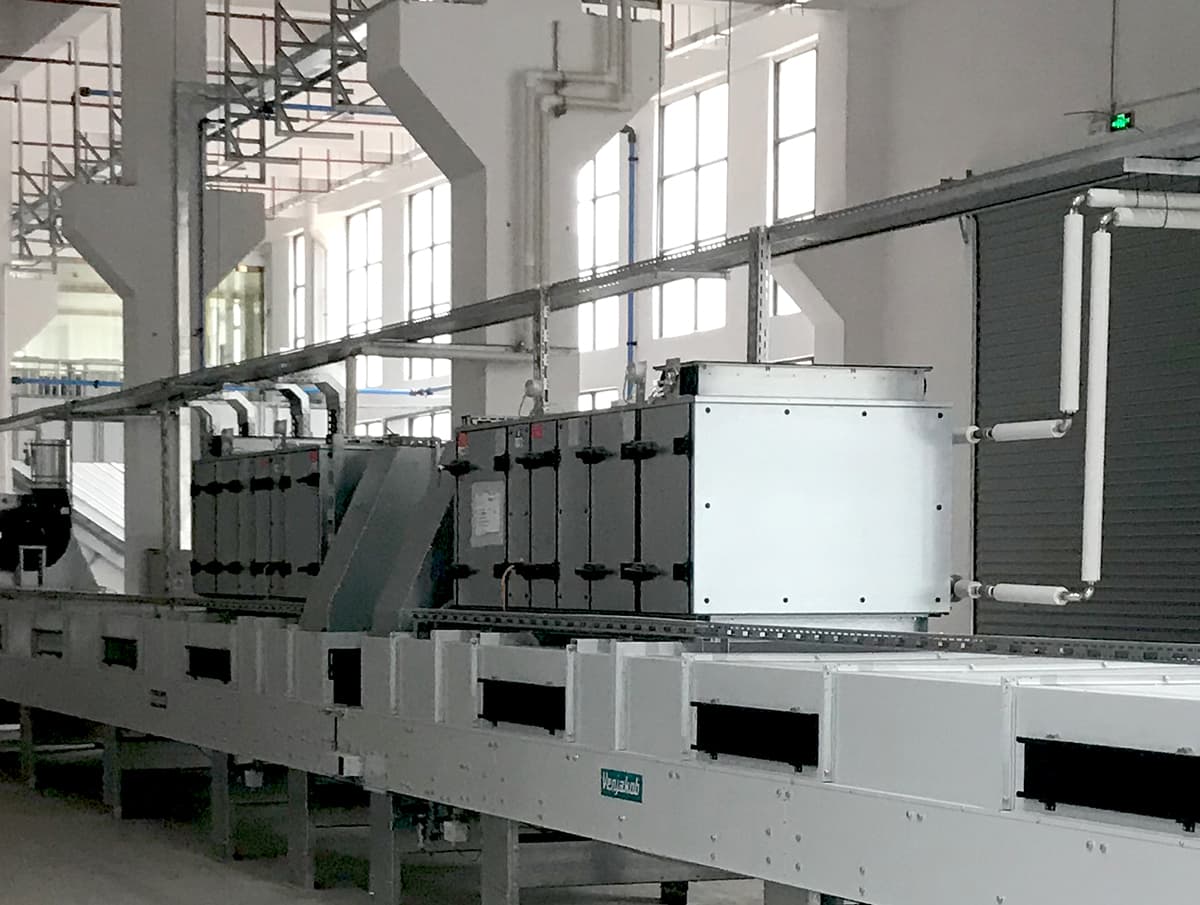 FLASH OFF TUNNEL
The flash-off tunnel is designed to pre-dry coating systems of all kinds. Organic and inorganic solvents can be removed gently from the coatings with moderate temperatures and air speeds.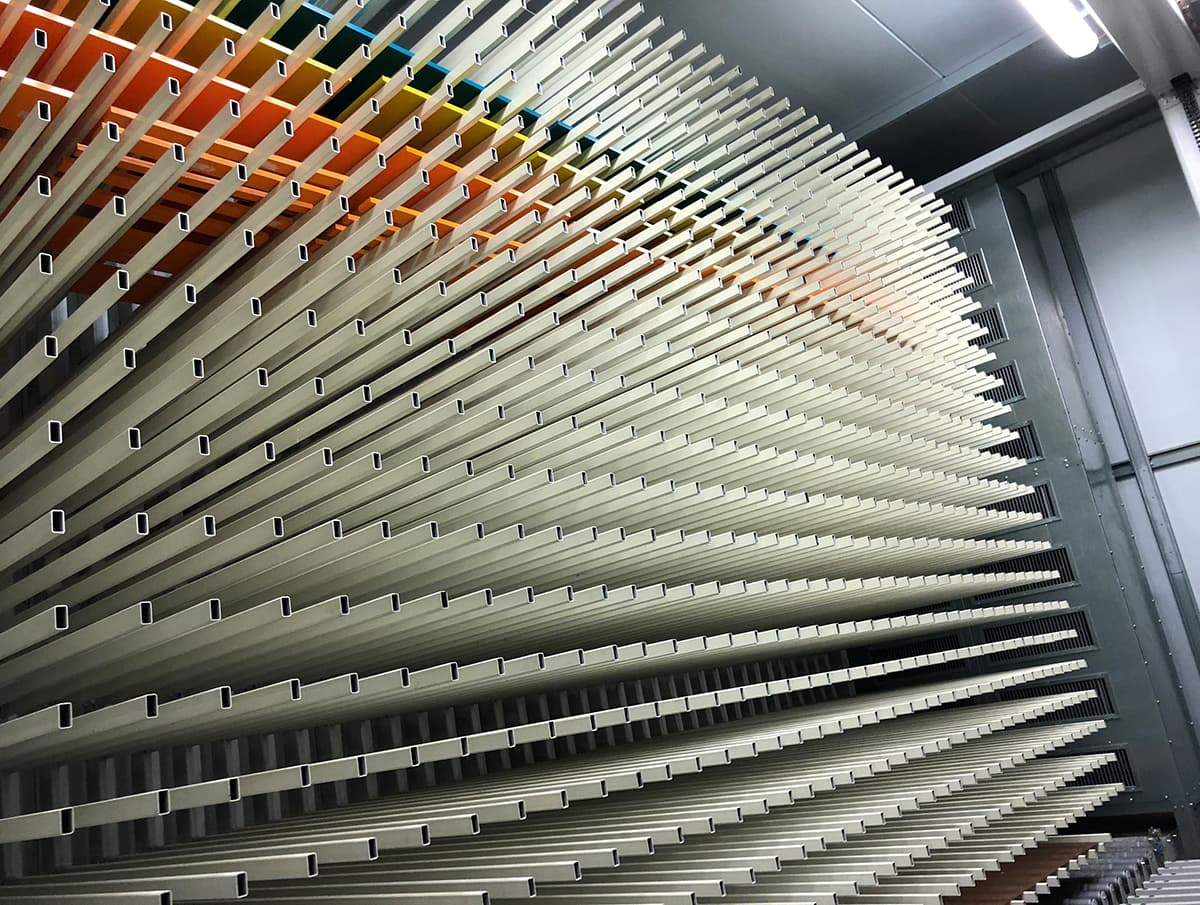 INDUSTRIAL CIRCULATION AIR DRYER
The industrial circulating air dryer is designed to dry layers of coating and can be operated at higher temperatures and air speeds.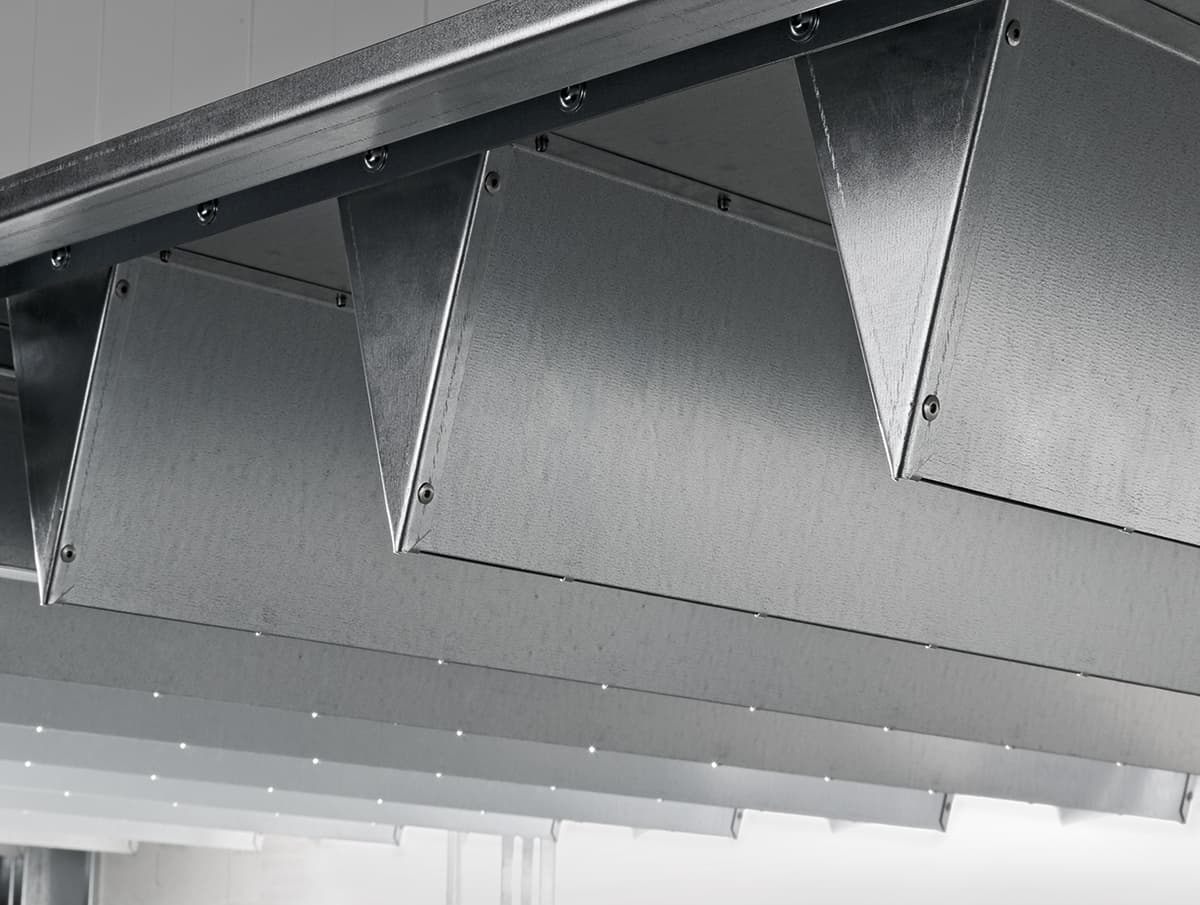 JET DRYER
The jet dryer accelerates the drying process and is usually used after an upstream circulating air or flat flow flash-off tunnel. This system works with a high air speed and energy density, which makes the drying process especially intensive. So called round and slotted nozzles are used for output.
Procedure

Area of applications

advantages
Procedure
+
How Venjakob industrial convection ovens work
Venjakob offers a variety of industrial circulating air dryers and systems that remove moisture and solvent and gently dry the coating. Exhaust air flows are expelled to avoid concentration. The dryers work with an air temperature of 30 to 250°C.
Venjakob industrial ovens offer a variety of heating media for outstanding flexibility
Our industrial convection ovens can be operated with the following heating media:
Natural gas
Steam
Electricity
Water
Thermal oil
Area of applications
+
Applications for industrial convection ovens

Our industrial circulating air dryers are suitable for products in various industrial segments:
Venjakob's portfolio of drying systems offers the perfect conditions for materials of all kinds. Particularly when it comes to drying wooden workpieces, our industrial circulating air dryers enable a drying process at comparably low temperatures, making the process especially eco-friendly. 
advantages
+
Lots of good reasons for a Venjakob industrial convection oven 

Fast and gentle drying
High capacity
Suitability for a whole host of materials
Different drying processes, tailored to your requirements
Robust, durable design, modular expansion
Comprehensive services
Can be integrated into production processes
Implement long drying times in limited space
Long and gentle drying leads to high surface quality, particularly when using solvent-based coating systems, though there's often a lack of space for temporary storage in the production line. Transporting parts can also be costly and increase the risk of damage. To avoid these aspects, Venjakob has developed innovative drying ovens with a variety of conveyors, all of which are based on the principle of industrial convection drying.


If you have any questions about our industrial electric oven systems or, more generally, the drying technology, we'll be happy to meet with you for a consultation. We look forward to receiving your inquiry!
Your contact person