Mobile Racks and Transport Trolleys
Mobile racks for air drying and transport purpose
Mobile racks and transport trolleys support an efficient flow of materials with minimized personnel deployment and protection of surfaces. Consistent standardization guarantees flexible use with easy conversion when requirements change.
Racks and transport trolleys in surface technology
Those trolleys can be used during the entire process chain of finishing. Whether it may be for storage or transport before coating, or downstream. Some lacquer systems do not require a drying system. In this case the coated work pieces are air-dried; mostly in trolleys. Others are dried in drying chambers, also stored in racks.
In order to support our customers around the entire finishing process, we are an official vendor of the high quality Austrian JOWI racks.
All mobile racks and transport racks from JOWI support the organization of the material flow. The mobile rack can be adapted to your needs (hole grid, frame, uprights, castors and any other components are thought out in detail). Due to the special quality of the castors, the racks can be manoeuvred and positioned exactly, even when loaded. They can therefore be used flexibly from cutting to size to final assembly and support efficient work processes.
JOWI offers efficiency with system
The Mobile racks are available in different dimensions - with fixed or adjustable length. JOWI products are robust and function for decades practically maintenance-free. Spare parts to adapt to changing requirements are still available after many years.
Jowi also offers special equipment for the higher temperature range - for example in a drying oven.
DABELJU - Fully adjustable rack length
One of the most versatile mobile racks is the modell Dabelju-B590-VV Maximum manageablility and manoeuvrability. A tried and trusted standard design, perfect for moderately heavy material, including furniture parts. Mobile racks with fully adjustable rack length are perfect for loads of similar lengths, from 600 mm long. The length of the racks is precision-adjustable. Due to the design of the rack, the uprights always remain parallel during adjustment, avoiding the need for any additional struts.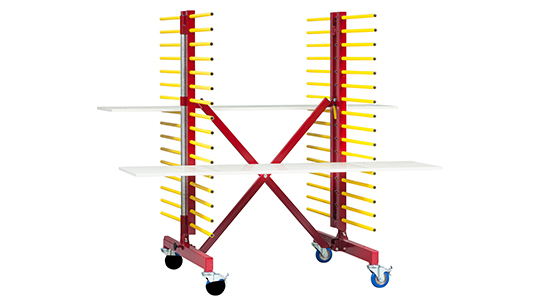 NAUTILUS Standing up or lying down - it´s your call.
Perfect storing all material for a specific order. Transports a combination of different material and panels up to 2.5 m in length. Additional capacity at the back for storing large-sized parts up to approx. 3 × 2 m. Inclined to the side. Parts stored individually.
Whether short or long parts - the complete order picking can be placed in the NAUTILUS trolley. The use of intermediate platforms allows you to make optimum use of the trolley's capacity. Even large parts can be transported with the order picking system thanks to the telescopic extension on the rear of the trolley.
Thanks to the excellent running characteristics of the rollers, even the fully loaded trolley can be rolled to the next location by one person and positioned exactly at the machine. This gives you short handling distances.
Due to the saved handling time, the trolleys have paid for themselves within a short time.