Machine Training Courses as Tailored Support for Your Employees

Training courses in mechanical engineering for maximum efficiency
Employees form the heart of every company. So it's all the more important that they're goal-oriented, efficient, and motivated. Machine training courses increase your output, your system reliability, and the value of your company, while minimizing costs. In other words, they offer real added value for you, your employees, and your company. Venjakob Service can also offer you plenty of machine training courses.

Increased effectiveness through plant training
Only employees with the necessary expertise are able to analyze and correct errors quickly, ensuring your systems operate without disruption. Limited downtime leads to fewer rejects and thus consistent quality.
Fast troubleshooting and error correction increase the expertise and independence of your operating personnel. Your employees are more effective and satisfied and identify more with you, your products, and your company. On-site assignments are a thing of the past and your employees are more loyal.
Plus, your machinery retains its value thanks to more professional handling and routine, proper machine maintenance. Your system remains efficient and reliable.
A detailed look at our machine training courses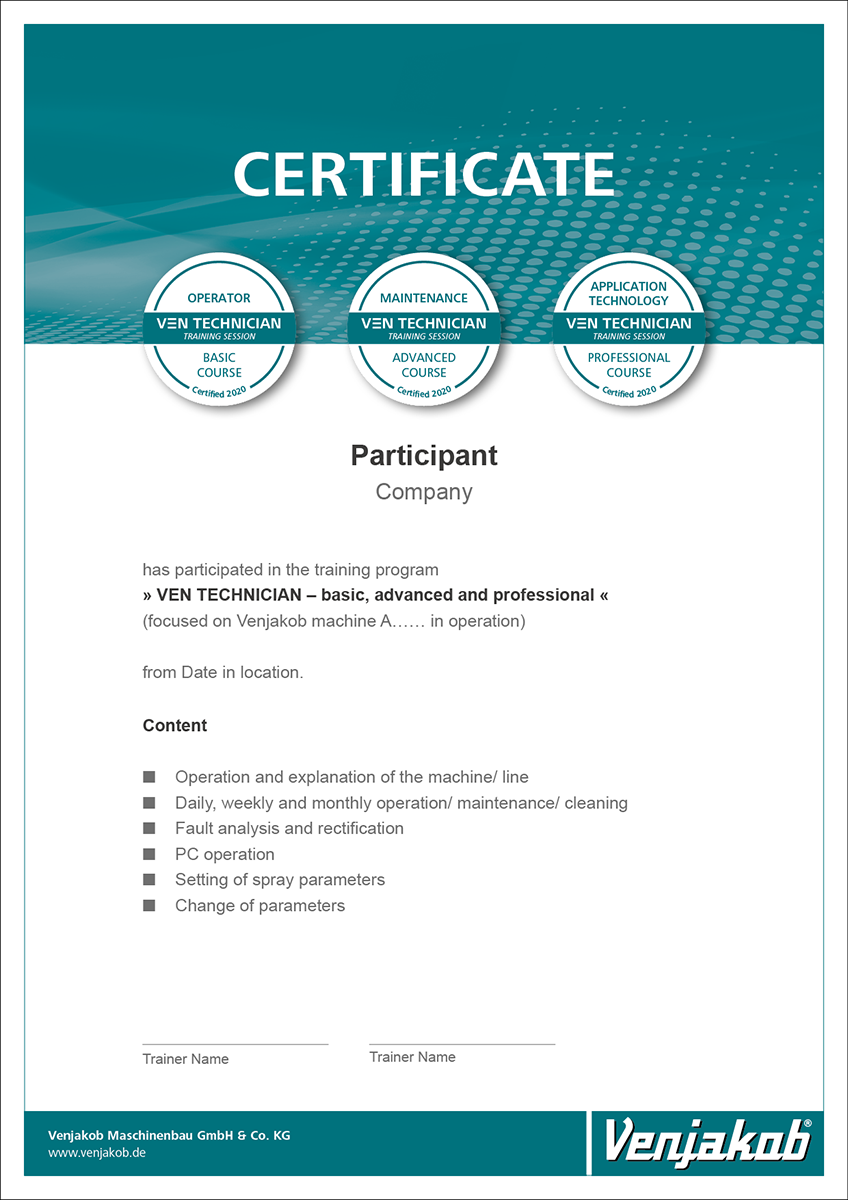 We tailor our mechanical engineering courses to your machine, the responsible team, and the corresponding circumstances in order to provide your employees with the best support possible. This not only allows us to optimally train your users and operators, but also effectively accommodate the age and condition of your systems as well as the local conditions. Once they've completed the course, we'll provide your employees with a certificate that qualifies them to operate our systems properly.
In addition to system support, commissioning training courses, and follow-up courses, our service portfolio also includes traditional operator courses as well as courses on on-site and remote machine maintenance. The former provides your operators with all the basics for a successful and seamless start or restart when developing or redeveloping (used machinery) or, for example, even after a retrofit. Especially when it comes to using older or used systems, it's essential to share experience as well as pass on and preserve previously acquired knowledge in order to guarantee the necessary safety and productivity here, too. Maintenance work based on the actual and desired state of your systems plays a key role in improving system availability.
Venjakob worldwide product training in a virtual environment
Overcoming location boundaries - virtual training without travel cost. The use of VR glasses makes it possible to carry out training courses long before the actual production start of a machine or complex system. In a virtual room, several participants can meet distributed all over the world, passively observe the processes and procedures, actively intervene in the events and also interact with machines, operating panels or valves.
Our service team maintains all of the necessary information pertaining to personal machine training at your facility for you.
Your contact persons