Spray Coating machine - VEN SPRAY ONE
Especially for carpenters and small businesses
Switch to automated coating easily and cost-effectively
As a sensible replacement, or as a supplement to your handheld spray booth and the growing demands for reliability and quality, Venjakob offers you an interesting alternative with the new VEN SPRAY ONE model from March 2020.
The compact spray coating machine is specially designed for the needs of entry-level users. The extra large touch screen display and the self-explanatory user interface of the control simplifies the machine operation.
The stand-alone solution comes with an integrated control cabinet. Therefore start-up can be carried out quickly and easily, which saves installation costs and time. The solid and inexpensive technology convinces the users of the performance and surface quality produced.
The entry-level model is in no way inferior to the professional range in terms of design and energy efficiency. It also has a large-volume spray booth and long-lasting, energy-efficient LEDs. The VEN SPRAY ONE is designed for the use of 4 spray guns. In order to achieve reproducible quality, recipes can be stored in the system control and called up quickly and easily. The cleaning effort of the painting system is very low, it is equipped with a paper belt transport.
Venjakob wants to meet the requirements of carpenters and craft companies with its new spray coating machine . It´s time to explore new horizons. Let the VEN SPRAY ONE and our team inspire you for new manufacturing processes.
VEN SPRAY ONE – the entry into automated spray coating
Effective replacement or supplement to a manual spray booth
Reproducible surface results in top quality
Simple machine operation with an intuitive user interface
Cost-effective stand-alone solution in the usual Venjakob quality
Easy maintenance
Short delivery time (approx. 4 weeks)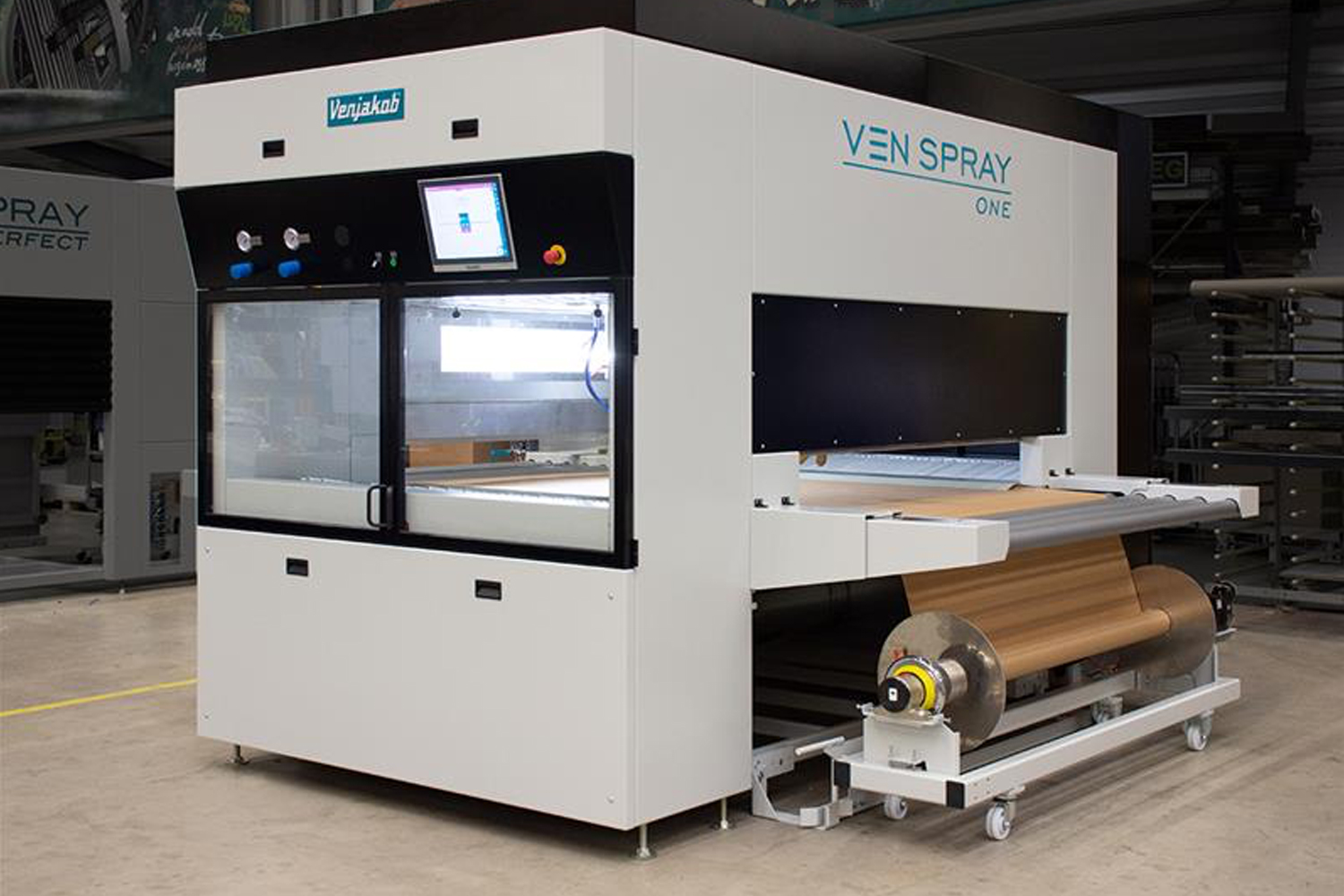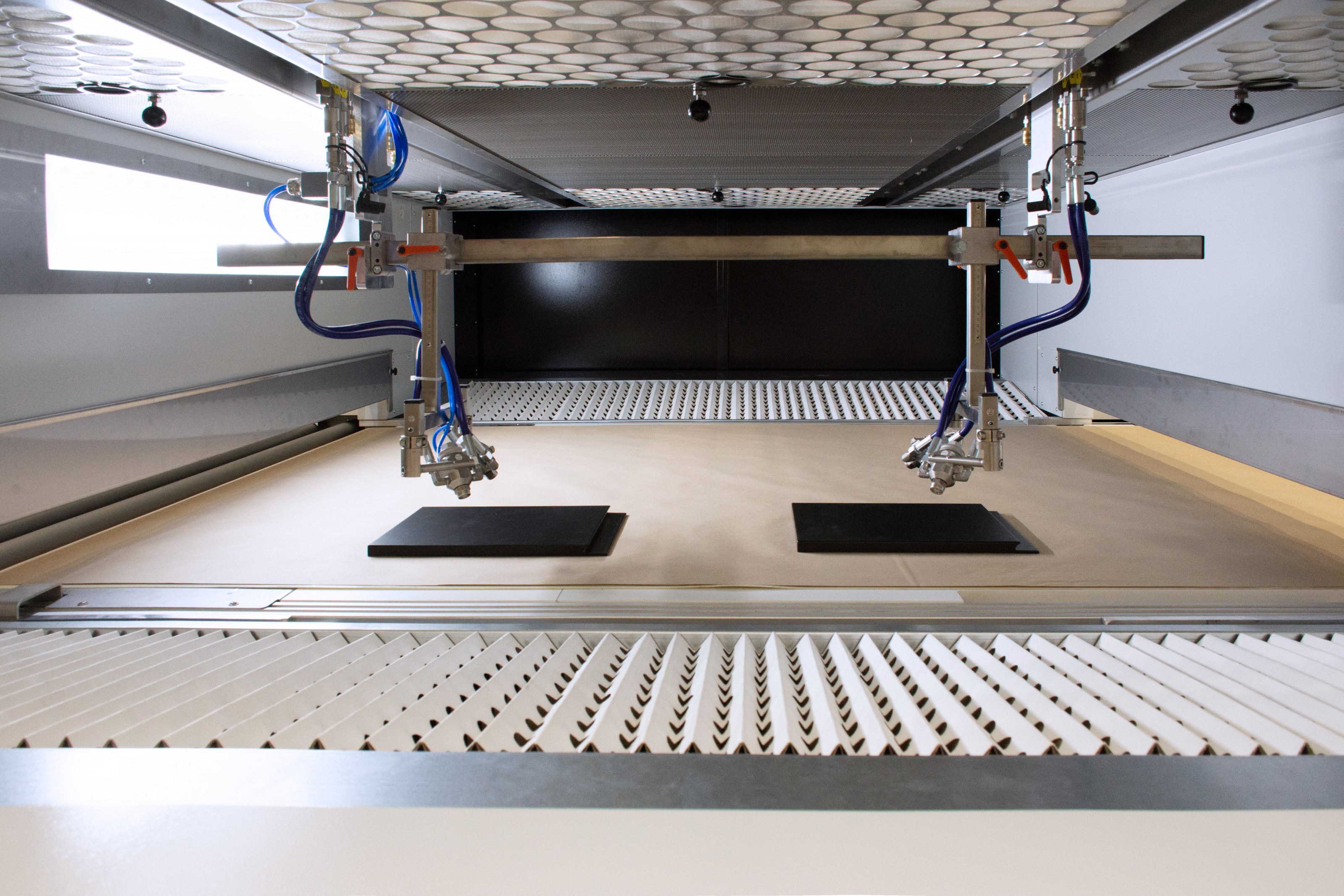 VEN SPRAY ONE - Compact automatic coating system as a replacement or supplement to the manual spraying booth.
What is inside the automatic spray coating machine and how to operate it can be seen in the tutorials about the VEN SPRAY ONE. Sarah and Olaf from the Venjakob team explain step-by-step the simple operation of the coating machine.
VEN SPRAY ONE - user interface + recipe
VEN SPRAY ONE – Brochure order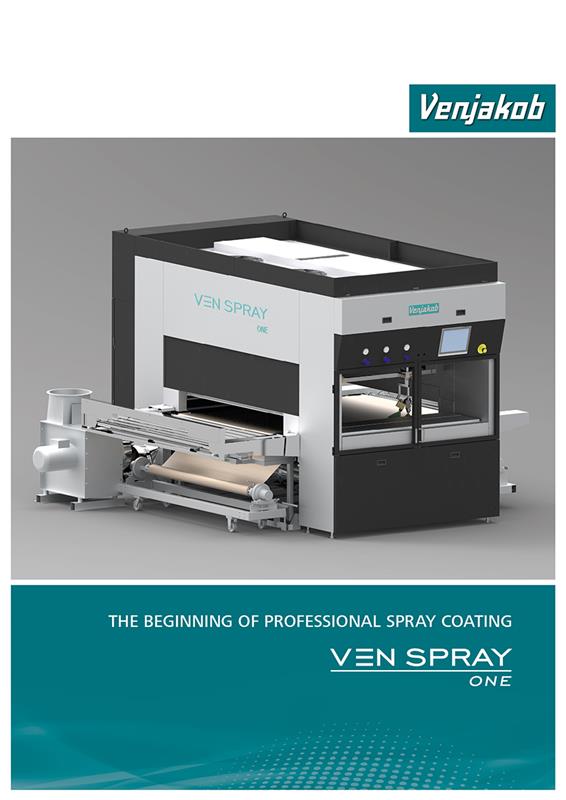 Brochure "The beginning of professional spray coating"
Technical components, expansion possibilities and conditions for the VEN SPRAY ONE coating machine. Request your VEN SPRAY ONE brochure under the following e-mail.