LIGNA – Making more out of Wood
May 15.-19.,2023 I Hannover I Germany
World's leading trade fair for tools, machinery and equipment for woodworking and processing
Ligna is the world marketplace for innovations in the wood industry.
Of course, Venjakob cannot be missing as an exhibitor.
This is what you can expect this year at Venjakob in hall 16, booth C 22:
Sophisticated process know-how in the field of surface technology
60 years of cross-industry experience in the development of coating processes
Examples of individual finishing solutions
in focus: spray coating + roller coating
Innovative finishing systems and automation technology
But what exactly is behind these keywords?
Stop by and see for yourself that we are your partner for well thought-out finishing solutions.
What we do differently?
We adjust to you. And we listen. This is the only way to create total solutions.
With us you get what you need and not just a standard product.
No matter if you represent a carpentry business or an industrial company.
We can do both: handshake and specifications.
Our product range is also diverse.
We will demonstrate this to you at LIGNA:
VEN SPRAY ONE
Our entry-level model for switching to automated coating easily and cost-effectively.
You think this is not profitable for you yet?
Let's talk about it, because automatic coating also brings benefits when there is a shortage of skilled workers or employees.
We will also be happy to demonstrate the intuitive operation of the VEN SPRAY ONE via the touch panel live at the trade show. There you will also see how the coating system works with paper belt transport and get a more accurate feeling of the dimension, the space requirement.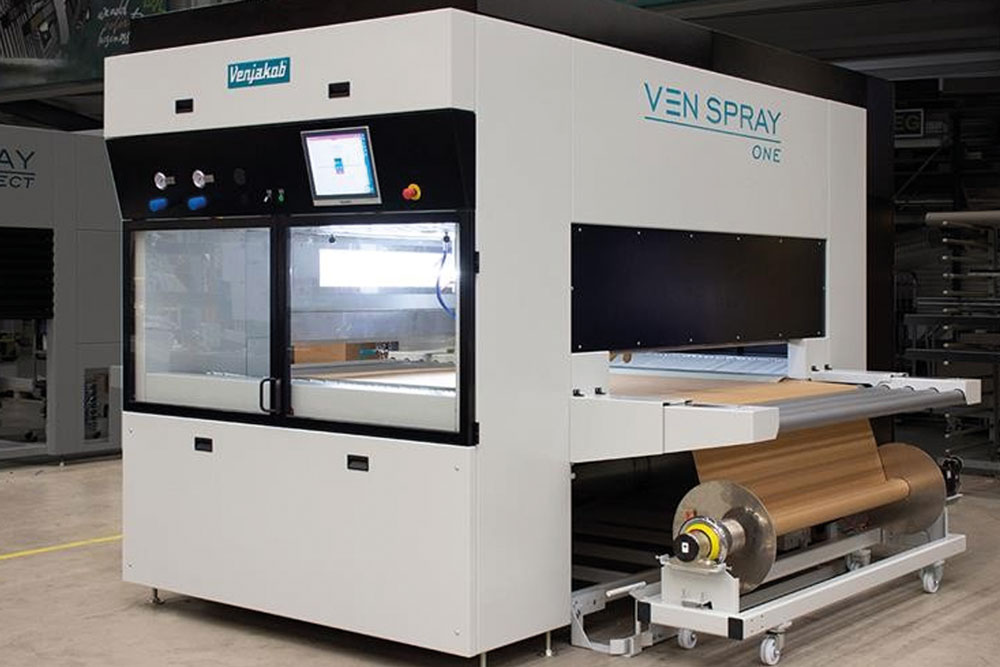 VEN SPRAY PEREFCT
The requirements for complete coating lines for the industry are very different.
Venjakob responds to this in an extremely customer-specific manner and develops a tailor-made solution.
Exemplary for this is the exhibited VEN SPRAY PERFECT finishing system.
This model meets high production requirements for efficient series production such as:
many and fast color changes
saving of resources due to intelligent air routing and treatment
as well as short material supply lines
high system availability (double washer system)
particularly high performance (feed rates of up to 15 m / min)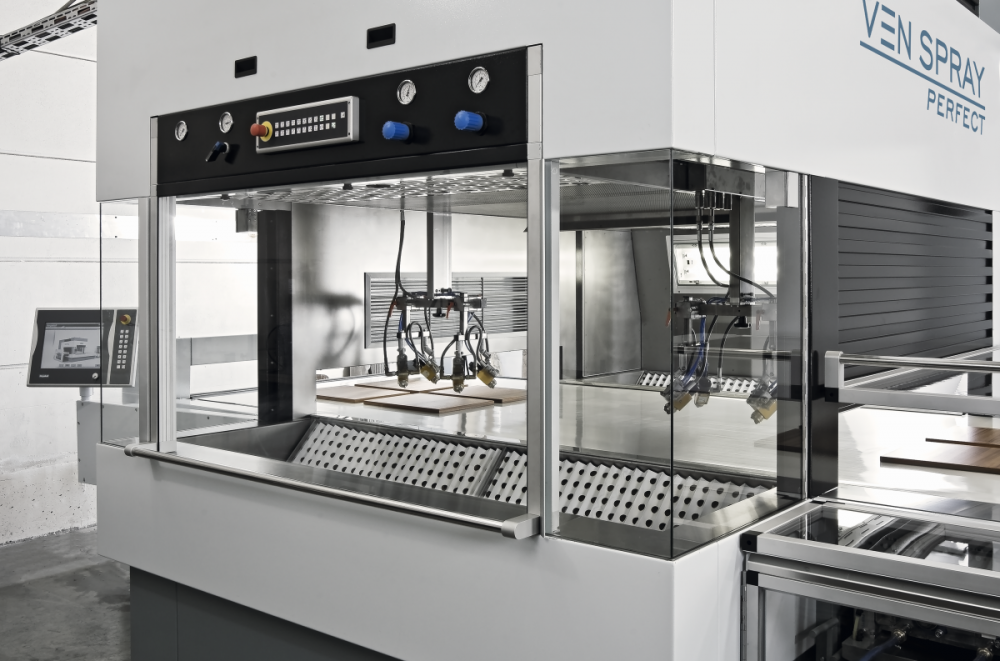 VEN COAT ROLLER
According to the motto: Venjakob - just coat it!
we offer not only application solutions from the field of spray coating, but also roller coating machines, casting machines, dipping and flow coating systems.
At LIGNA you can experience our roller coating technology live.
We will demonstrate how profiled workpieces are effectively coated with a 100% UV coating material using a special application roller and in combination with the robust design of our machine. Curing takes place in a UV system, here we combine energy-saving UV LED technology with our Surround UV module, which ensures optimum irradiation of shaped workpieces. Afterwards, the coated workpieces can be stacked and packed immediately, the coating material is completely cured.
The roller coating process is the most efficient solution for painting flat workpieces. An almost 100% coating transfer rate combined with a high output rate and short processing time due to the use of UV-curing coatings are the advantages of the technology.
Venjakob offers roller coating machines for floors such as parquet, LVT/SPC and veneer floors, for full-sized panels, for doors and for furniture parts but also for other types of materials.
The modular design of a roll coating line allows you to react quickly and flexibly to new requirements. Depending on requirements, roller coating and spray coating technology can also be combined.
Please contact us. Whether for individual systems or complete lines with cleaning, pretreatment and drying technology as well as for various forms of material handling.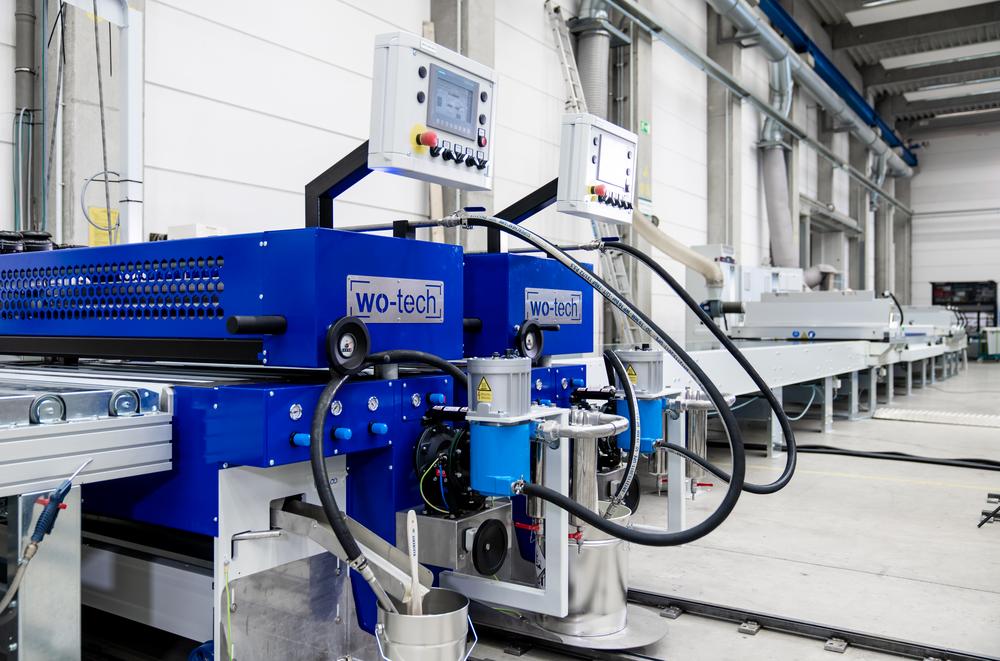 AUTOMATION TECHNOLOGY
Particular focus in 2023:
intelligent plant control systems that help our customers achieve optimum machine loading
smart Automation: everything from a single source including conveyor technology and handling systems
Intelligent control technology, an invisible added value for our customers.
We try to make this partly visible, for example, by showing you at Ligna how you can optimally occupy your finishing line with the help of our control technology and a software program and thus save resources.
Intelligent control technology is the heart of the machine
Because availability and reliable processes have top priority.
In finishing lines from Venjakob, the entire process is precisely thought out and coordinated. The higher-level control system networks all transports, transfers, turners as well as the conveyors integrated in the finishing line or in the dryer and also enables recipes to be called up at a central point.
We would be happy to discuss available options and implemented solutions in more detail with you in a personal meeting.
Automation technology: one term, several meanings
Automate processes
through the use of intelligent, networked control technology
through the use of fully automated systems, including ,among others, conveying and handling technology.
Venjakob serves both segments.
Industry 4.0 in mechanical engineering and in numerous sophisticated handling concepts that Venjakob has developed and successfully implemented for a wide range of industries.
What, Venjakob offers automation solutions?
You didn't know that? One more reason to take a closer look at us!
With us, you get everything from a single source, including conveyor technology / handling technology and robotics.
Optimize your production processes with our automation solutions. Let our automation technology carry out recurring work processes. This will increase the performance of your production plant, reduce costs and offer flexibility.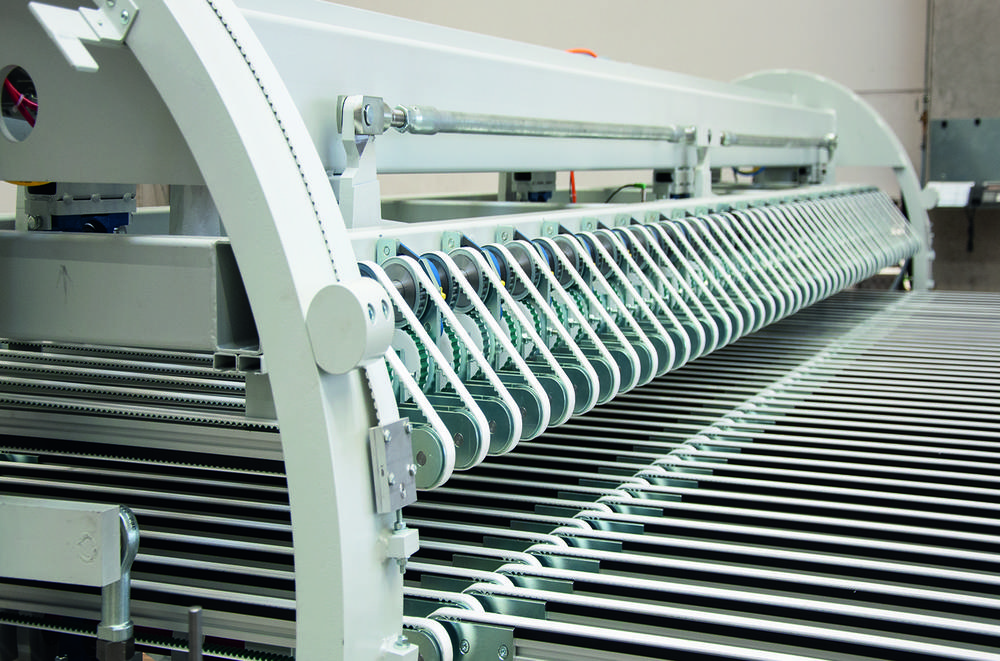 You don't have a ticket yet? No problem.
Via this link you can request your free visitor ticket using the ticket code upPG2.
We are looking forward to seeing you!