Venjakob North America at IWF in Atlanta August 23-26 ,2022
At this year's IWF, Venjakob North America will be represented at two booths in Atlanta.
Venjakob North America at booth A 10937 and with Stiles at booth B 5034
Our Venjakob North America team will be displaying our spray coating machines VEN SPRAY ONE and SMART, while Stiles as a Venjakob Sales Representative for the US-American market, will be displaying the VEN SPRAY PERFECT.
Future-oriented coating technology: energy-efficient + high-performance
Venjakob invites you to rethink your coating processes.
Resource shortage, environmental protection, sustainability, and lack of workers are buzzwords that are on everyone's lips. Venjakob is happy to discuss these topics at the trade fair and share information on what the company has done to optimize users' production processes with its technology.
For example, by installing an innovative, resource-saving recirculation system in the large-capacity booth of the VEN SPRAY PERFECT spray coating machine; for the application of water-based coating materials. This has proven to save heating energy and reduce environmental emissions. The integrated air humidification system assures to achieve highest coating quality with low energy consumption.
Switch to automated coating easily and cost-effectively
VEN SPRAY ONE - Especially designed for the needs of craftsmen and small businesses.
With this ONE model, Venjakob offers an interesting alternative, as an efficient replacement, or as a supplement to your hand-held spray booth and relieving the growing demands for reliability and quality.
Find out more about the advantages of this machine and come at our booth A10937.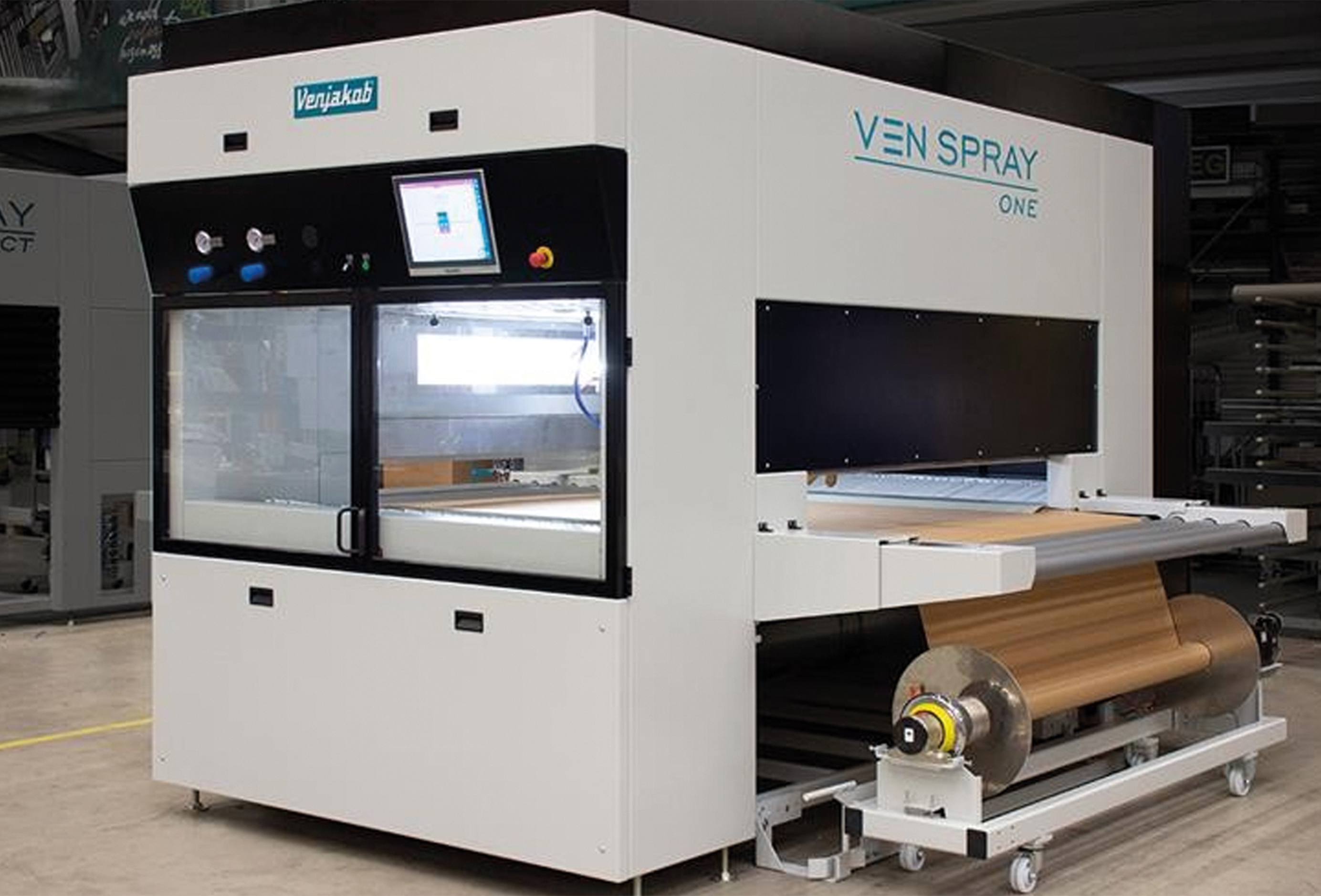 VEN SPRAY SMART - Saves material and reduces the cleaning effort.
This machine type is equipped with a belt cleaning system and | or paper belt transport. Its paint recovery unit is both economical and environmentally friendly. If production requirements change, the machine is easily expandable by a cleaning unit, drying system etc.
Rethink your finishing process.
The time has come to break new ground. The experts for surface technology are looking forward to hearing your requirements in the course of the exhibition. They are looking forward to designing a finishing solution for your individual finishing needs. Venjakob will be happy to discuss individual approaches to solutions, or to present realized projects. As, for example, for the furniture/cabinet industry, craftsmen, or building materials industry, for which the family-owned company is a reliable partner. For the staircase manufacturer with batch size 1 as well as for the industrial door coating with feed rates of up to 20 m / minute. Be sure to stop by and see what Venjakob can offer you.