Flexible surface coating for 1000 and one functional door
Batch picking before the coating process.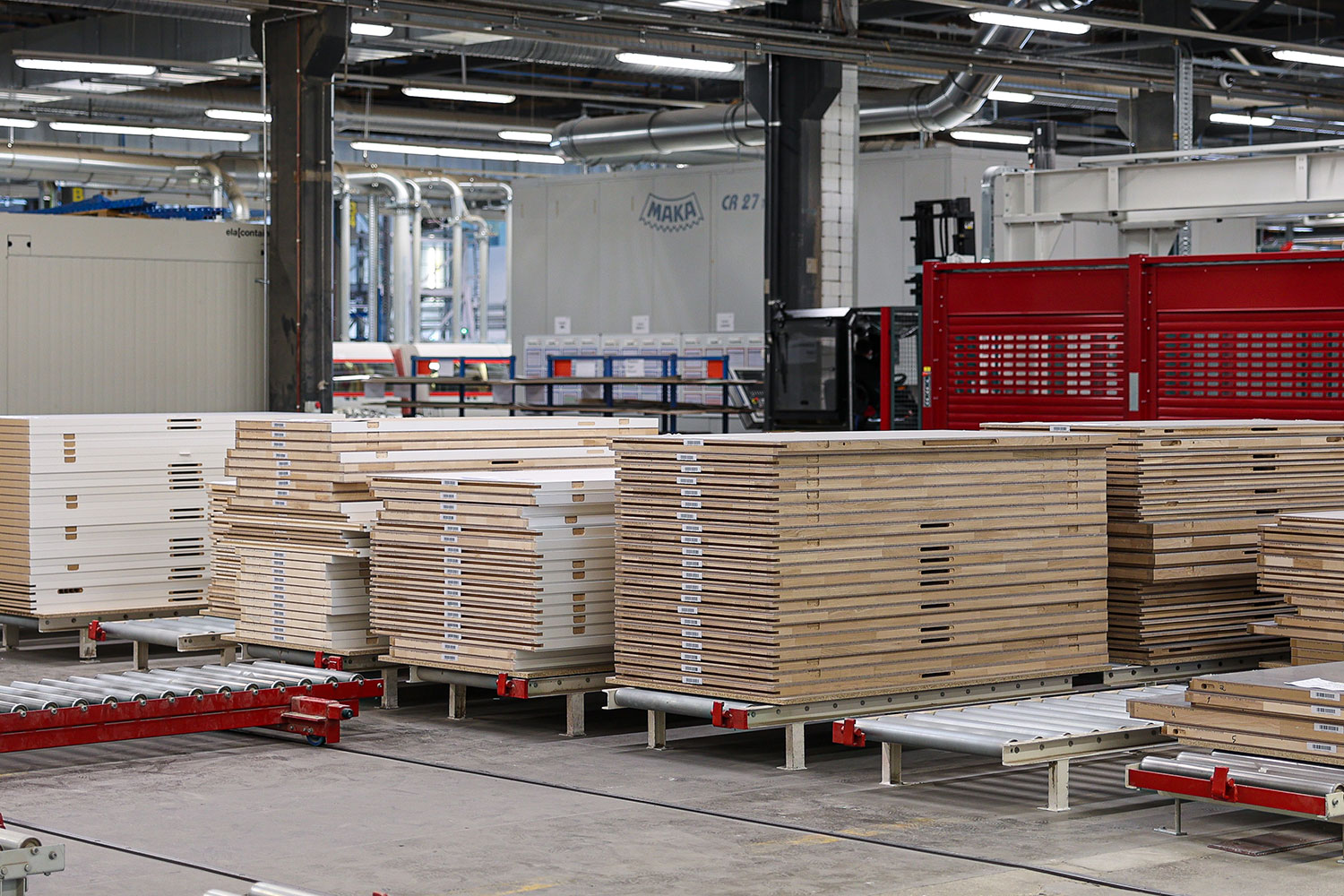 Feeding the batch loading conveyor and aligning the door with the aid of a manual lifting device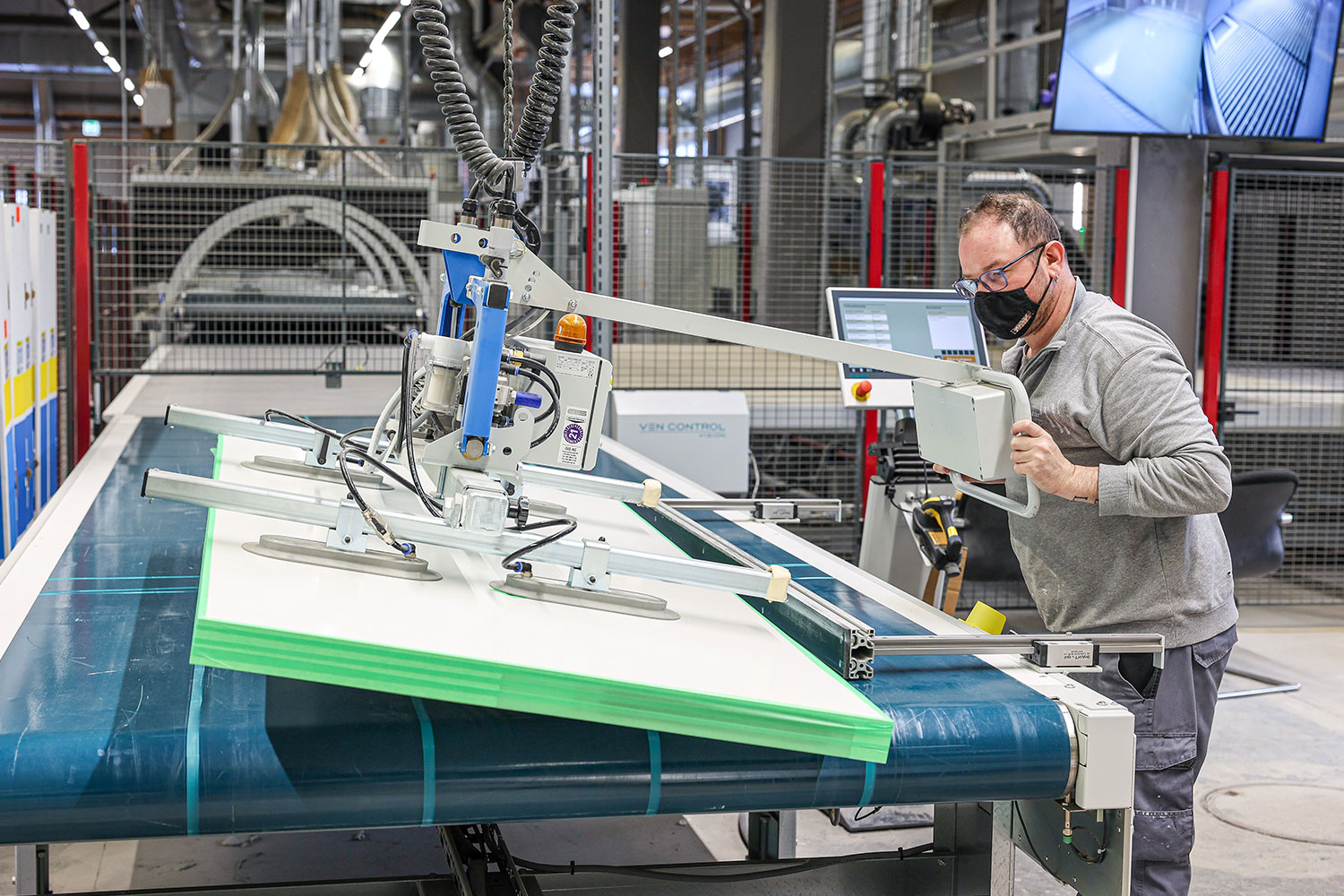 Control panel for central system control. The workpieces are barcoded; the programs are called up automatically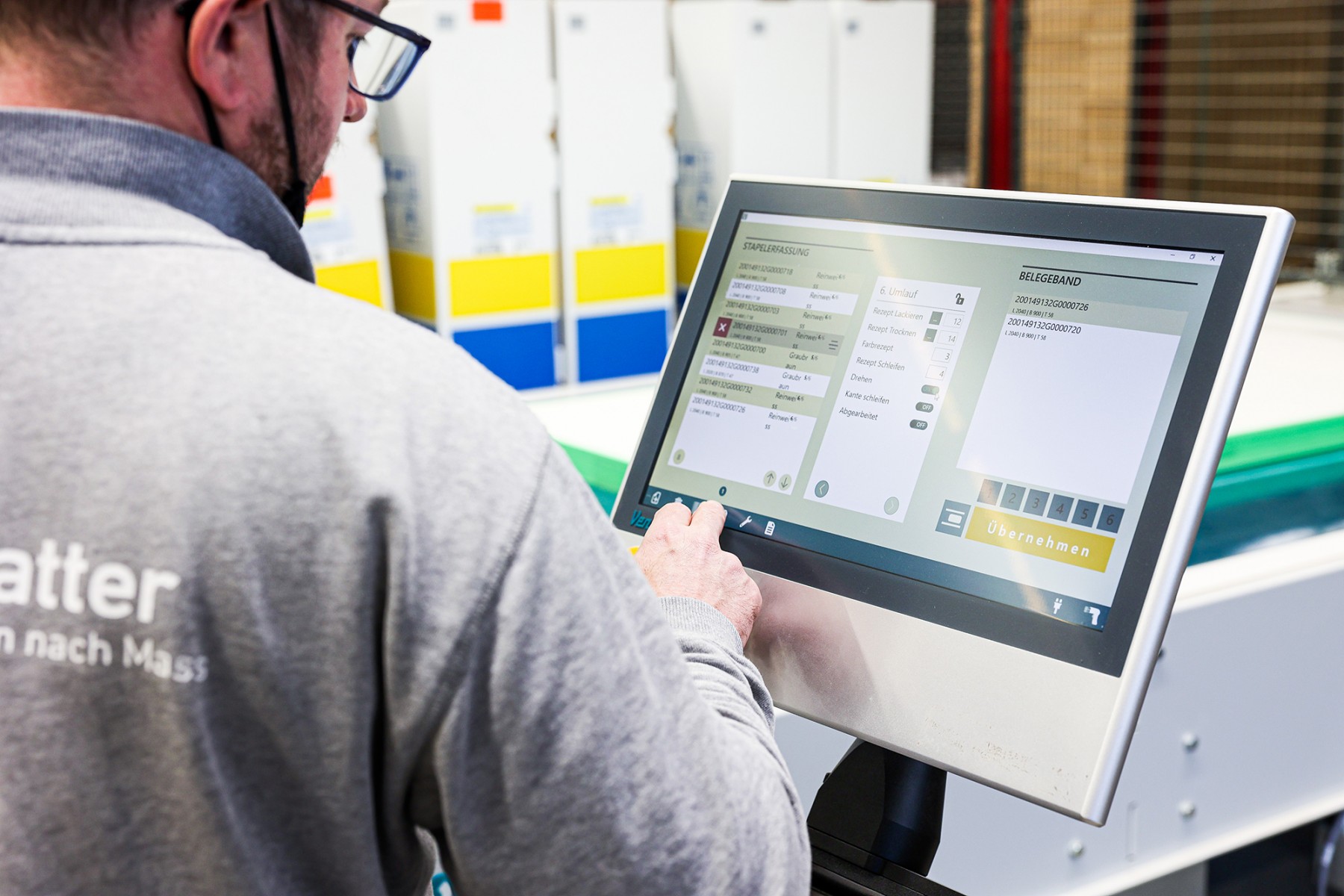 VEN SPRAY PERFECT - the automatic spray coating machine with quick color change system is the heart of this flexible coating line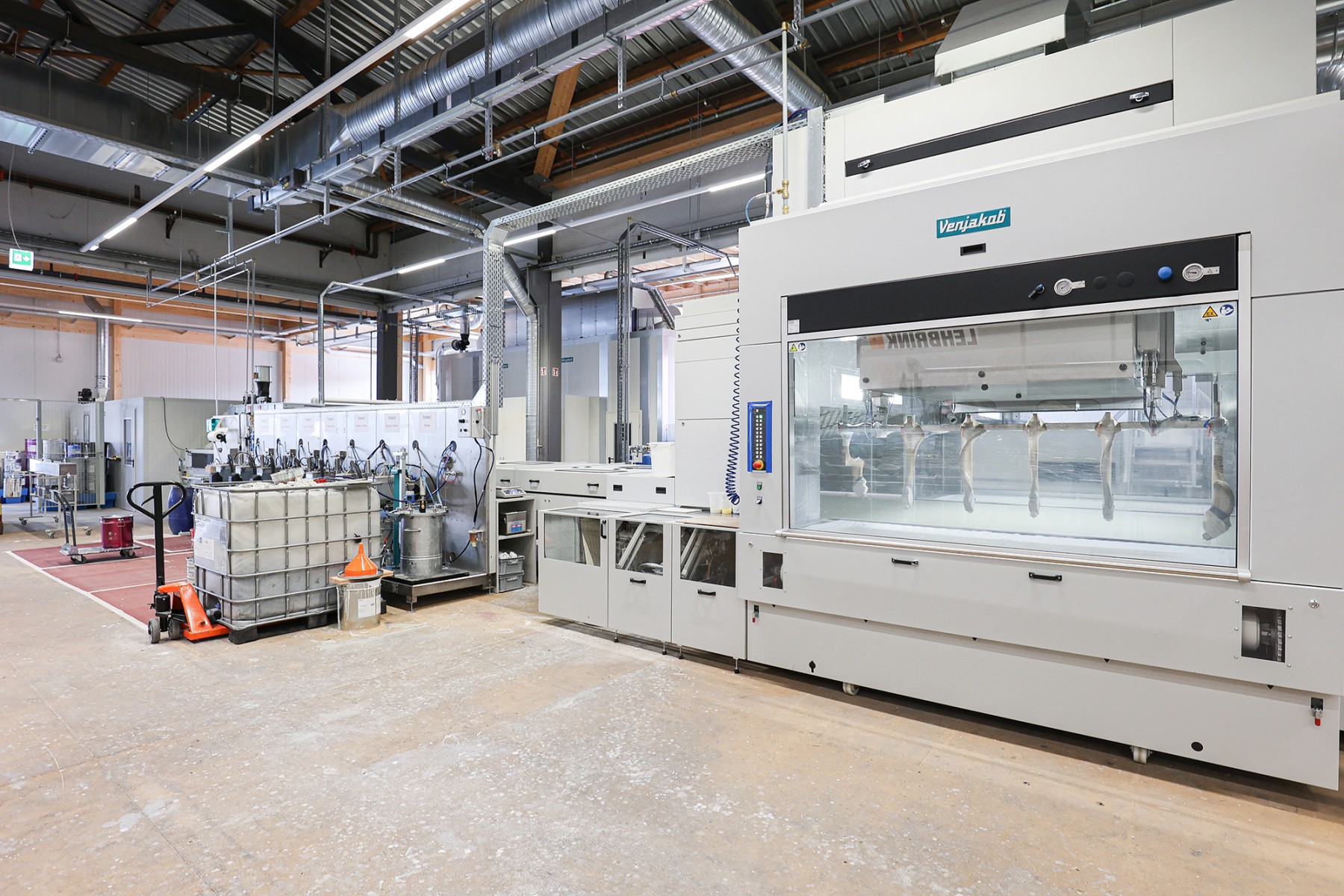 VEN DRY OIR - drying channel with optimized infrared technology for particularly gentle drying of water-based and water-based UV coatings.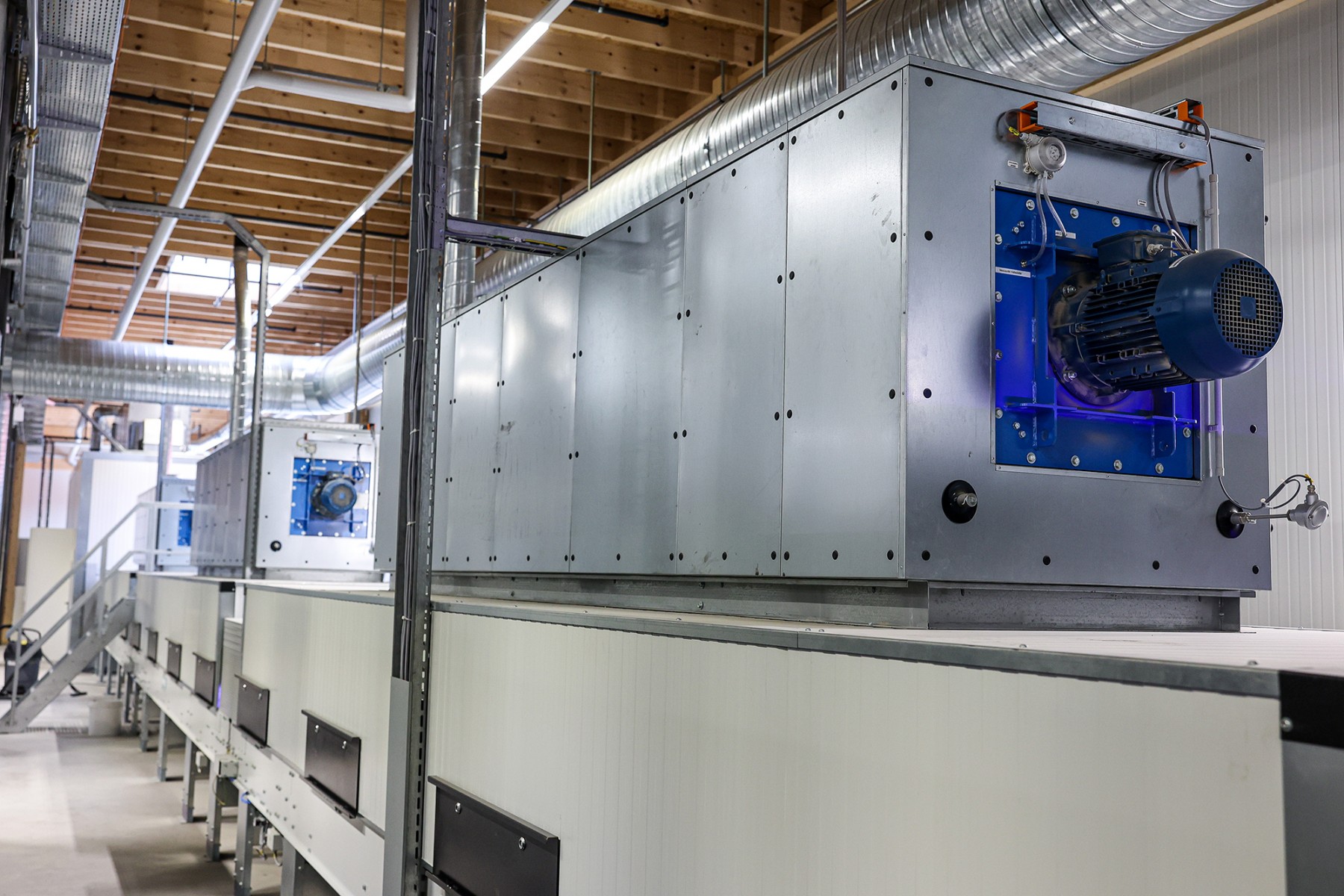 180° rake angle transfers with housing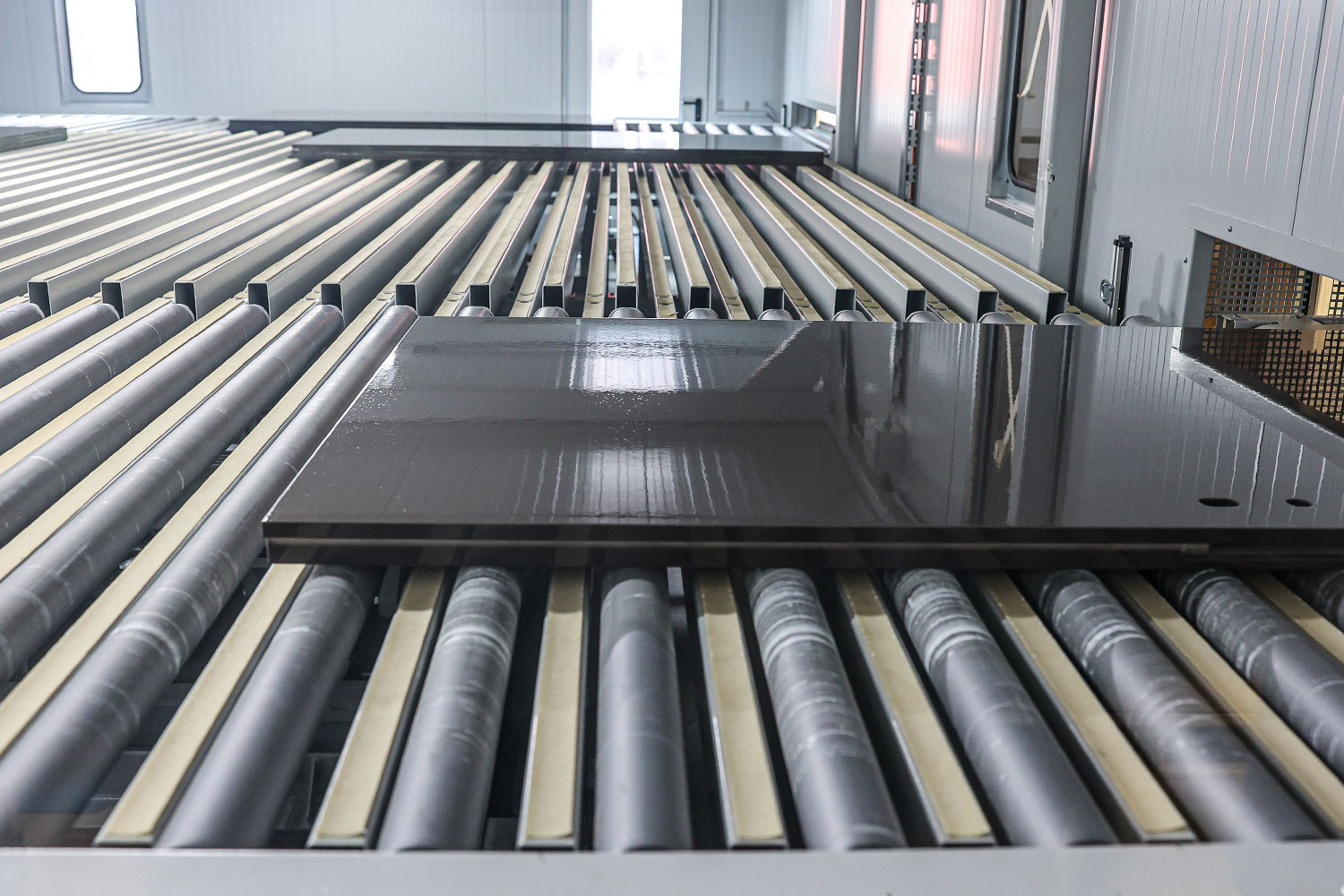 VEN DRY UV - UV channel for curing the UV coating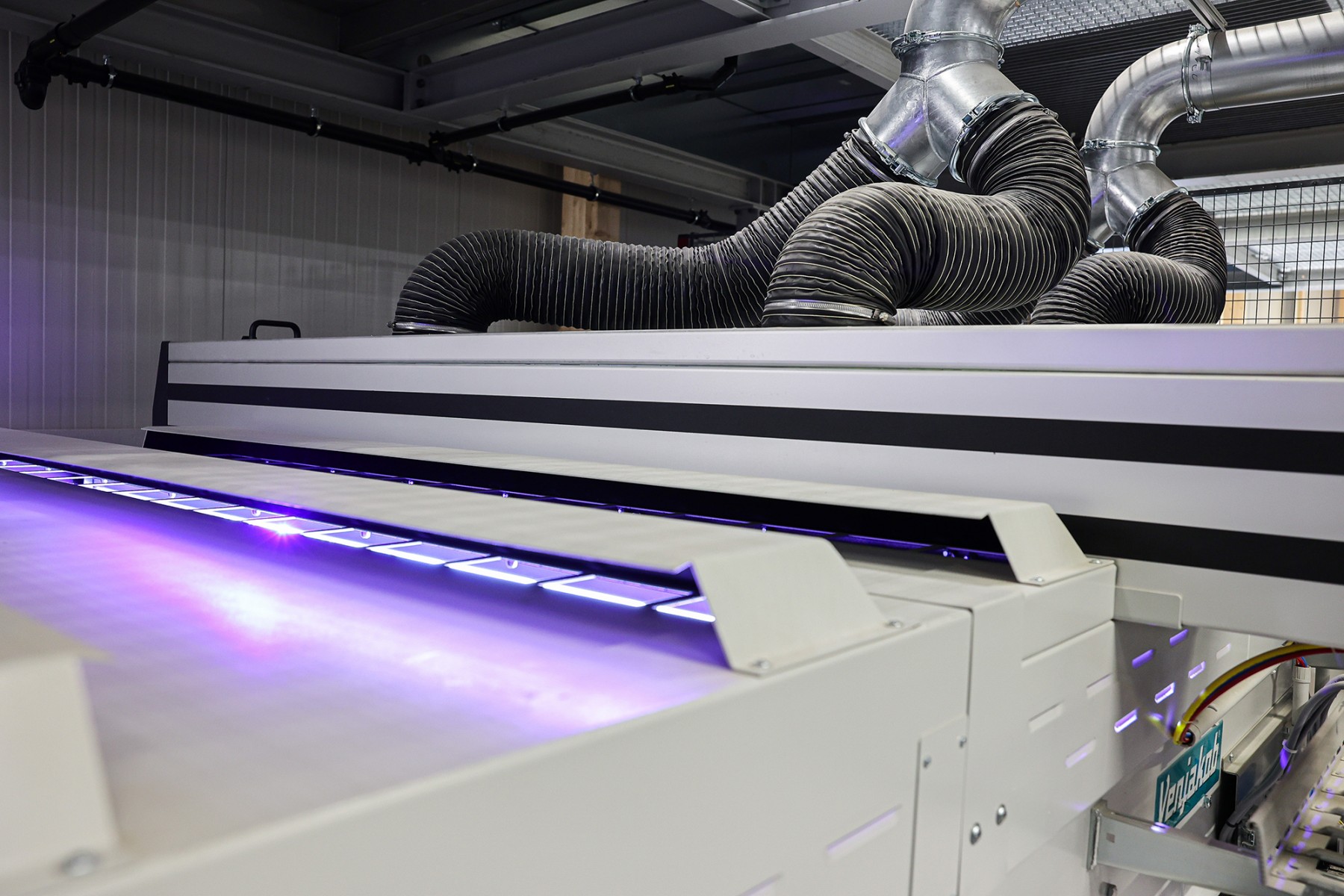 Drum turner - here the batch is rotated to be fed to another circulation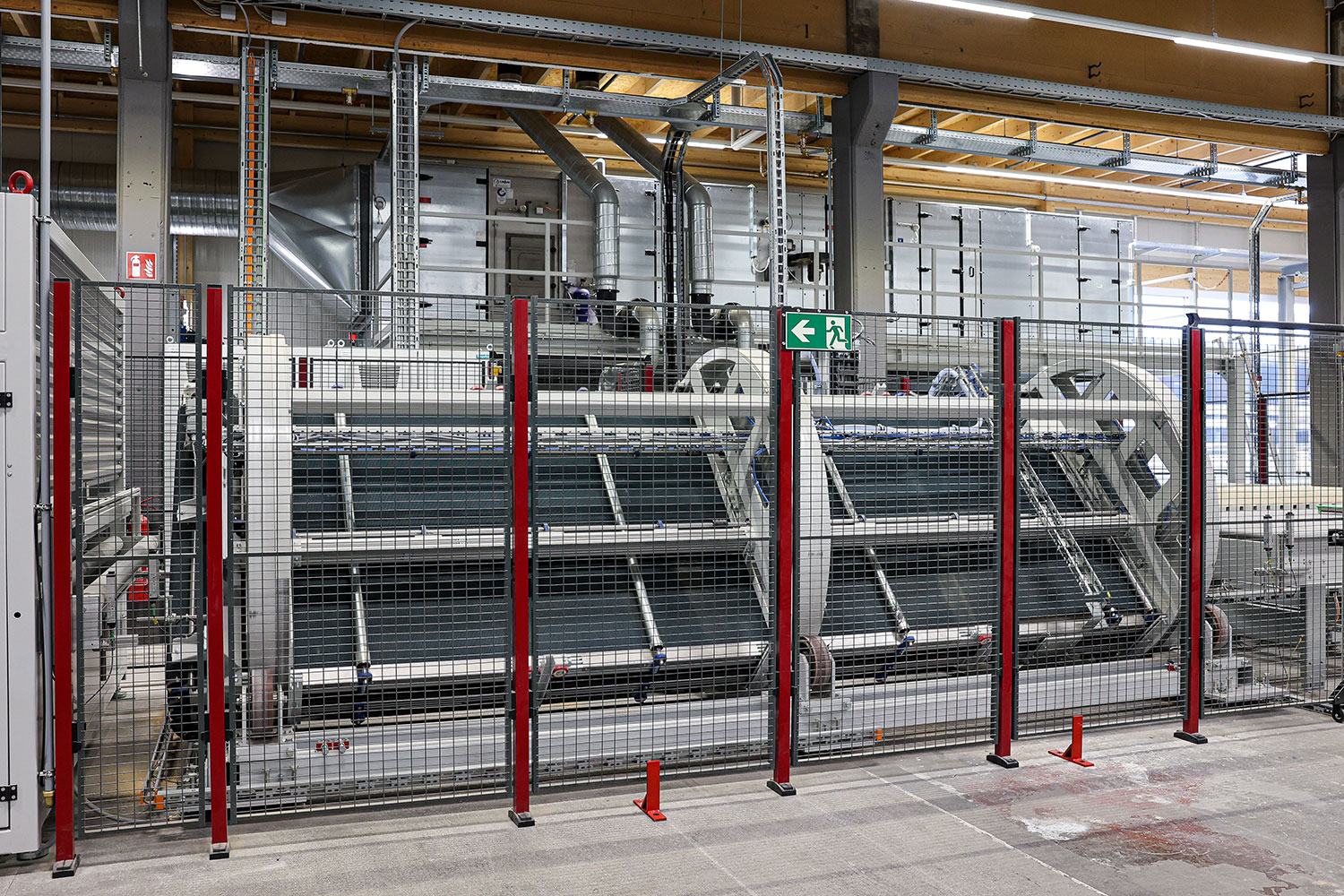 Previous
Next
In Switzerland, the requirements for manufacturers of functional doors are particularly challenging. Due to the small scale of urban development and the diversity of buildings, there is less demand for standards in the commercial sector, but for a wide range of doors. RWD Schlatter develops and produces door blanks for fire, smoke and sound protection for general contractors, architects, module builders and the specialized trade. With in-house product development and its own testing laboratories accredited to European standards, as well as a high degree of automation in the production process, RWD Schlatter wants to serve its customers individually and efficiently. According to the company, today about 80,000 door blanks are produced per year.
External surface treatment cost-intensive
Before deciding to coat the doors in-house, the door manufacturer resorted to external partners. "Too cost-intensive," found Anton Zöchbauer, head of process and process technology at RWD Schlatter. In addition, he said, the quality was not as good as it is now. "The raw door leaves had to be shipped to the external paint-shop via a freight forwarder and then transported back again for finishing. This often resulted in damage during transport. This had an impact on quality. The same applies to the fact that hand spray coating does not meet the market standard for an industrial surface," explains Zöchbauer. Anton Zöchbauer was able to assure himself of the improved surface quality at the Venjakob technical center in Rheda-Wiedenbrueck/Germany before the order was placed. There, a batch of door blanks was coated on the Ven Spray Perfect spray coating machine and compared with the batch from the previous suppliers. The door manufacturer was particularly impressed by the exact reproducibility of the surface quality, which is only possible with an automatic spray coating machine.
Commission production requires high flexibility
Door production for the contract business at RWD Schlatter is based on the "Tannenbaum"-principle / stage concept. Depending on the order, the stacks of door blanks to be processed are completely different in length, width, thickness, material as well as in their requirements for coating and further assembly. This had to be considered by the machine manufacturer Venjakob during the planning phase. The customer wanted a complete package: a highly dynamic, flexible surface finishing center with a high degree of automation and possible interface integration of a sanding machine from a third-party manufacturer. Venjakob took over as general contractor and developed an economical overall concept, starting with the conveyor technology and the control system through to the heart of the spray coating system with a sophisticated color management system that has extremely short color change times.
Surface coating in batch operation
Since May 2020, the automatic door coating line from Venjakob has been coating approx. 95 percent of doors and 5 percent of door panels, lining strips and door bolts, partly in 3-shift operation. As requested by RWD Schlatter, a stand-alone wide belt sander from Weber was fully integrated into the line. A Venjakob door edge sanding machine, which sands both the longitudinal and the top edge in continuous operation, rounds off the sanding process without compromise. The complete surface coating system operates in batch mode. This means that within a batch, doors and door elements are coated in the same way and dried uniformly. Mainly 2K water-based UV coating systems are used. Within a batch, there can be any number of parts of different lengths, as long they have the same thickness, remain within a certain size (5,500 mm x 1,600 mm) and the maximum weight per batch remains below 300 kg. As a rule, two doors with a maximum door length of 2,600 mm are run one behind the other on one batch. Longer doors are run individually per batch. In the case of door stacks which vary greatly in their sequence, it is also possible to run with only one door batch sizes, if there is no other option.
Variable drying system for different coating materials
The drying system of the coating line with four different drying units is also designed for variability. This means that different types of coatings can be used with different conditions in terms of drying time and type. A distinction was made between three scenarios: 1. always the same type of coating; 2. coating systems that dry quickly as well as stains; 3. coating systems that require long drying times such as special colors or special coating types. These can, for example, be coated as last in the late afternoon hours, dry overnight in the 10-level dryer and be stacked directly manually in the morning.
Fast color changes and paint recovery
If you want to respond flexible to customers' design wishes, you need a spray coating machine that is designed for all colors, can implement fast color changes, and delivers reproducible surface quality. The installed fully automatically controllable spray coating machine is equipped with a reinforced high-performance linear drive and can be operated with up to 12 spray guns. The gun speed is continuously adjustable and sprays at the same speed across the entire working width. All spray guns are connected to a circular flushing system for fast spray material changes. To ensure that as much coating material as possible can be used, the belt cleaning system has been equipped with a V-rake device for returning the coating from the belt to the container. A special color management system for 2K and 3K coatings was also installed. This enables fully automatic color changes within a very short time. One of the reasons for this is that the relevant components have been "piggybacked" to the rear of the spraying machine above the axis with very short paint lines. Should a system malfunction occur, it can be diagnosed via a remote maintenance system. This enables rapid assistance. To support quality control, several digital cameras have also been installed to monitor the entire machine line. All components required for maintenance are easily accessible or easy to remove.
First cooperation with Venjakob
For RWD Schlatter, this was the first time they worked with Venjakob. Project manager Anton Zöchbauer became aware of the machine builder due to the good references in the door and furniture industry. With RWD Schlatter, Venjakob now has another good reference. "Our requirements were fully met according to the specified parameters. The support and service after final acceptance was also very flexible and top in every respect," says Zöchbauer, confirming the good performance of the Venjakob team.
The following components are included in the overall "door coating line" concept:
Conveyor technology, designed for batch operation
Door edge sanding machine
Wide belt sanding machine
Dust removal system for use after sanding
Spraying machine with special color management system, designed for 2K or 3K technology
Dryer: flash dryer, 10-level dryer with longitudinal flow method
nozzle drying channel
UV drying channel
control panel
Remote diagnosis system
Supply air system incl. humidification.