13.09.2022
|
Deutschland
New circulating air system reduces energy consumption
Resource-saving door finishing system From the right: VEN BRUSH door sanding system for longitudinal and transverse edges, VEN CLEAN COMFORT dust removal system, VEN SPRAY PEREFECT spray coating system followed by various conveyor systems and drying systems.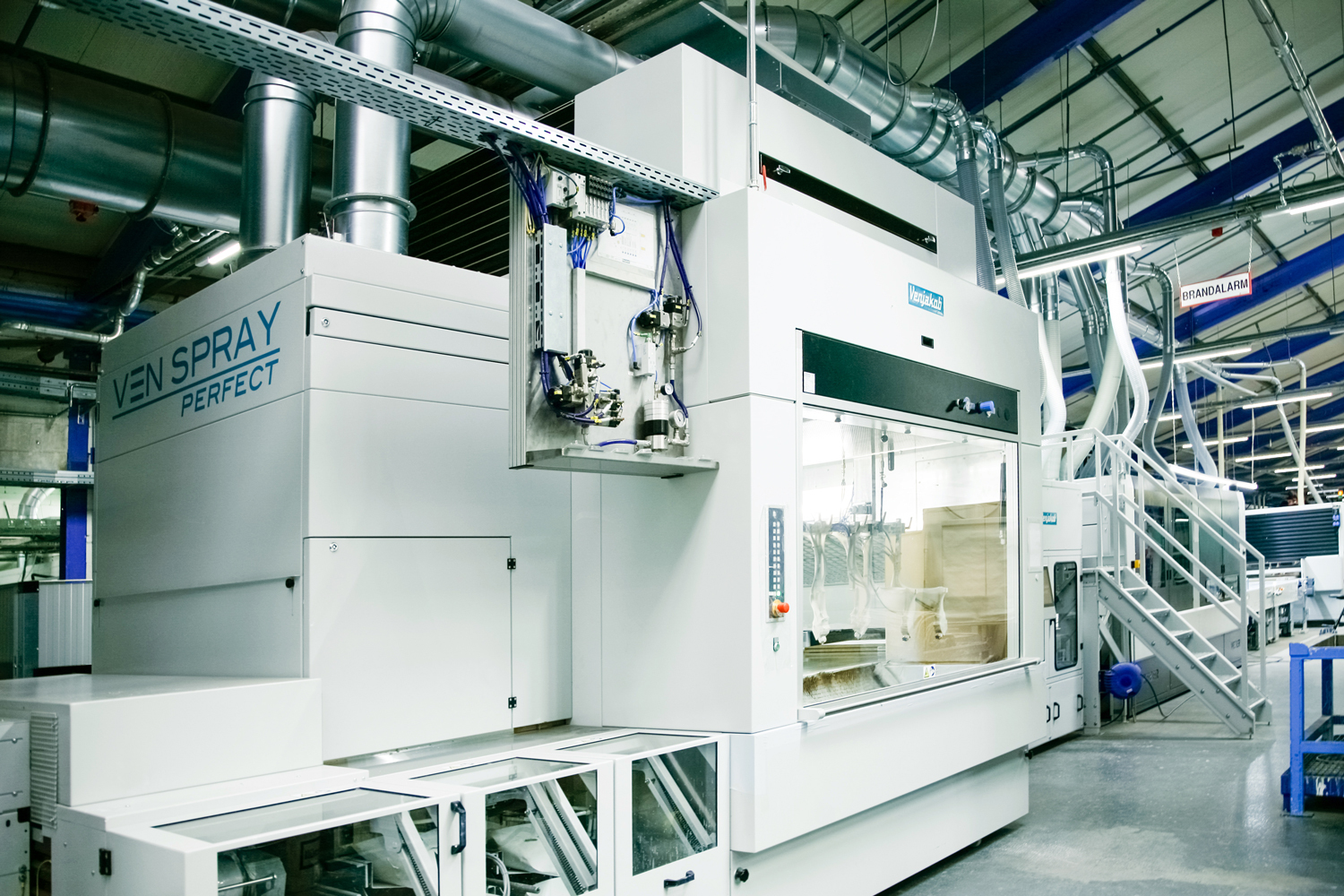 Garant employee at new finishing line They enjoy working with the new user-friendly finishing line From the left: Enrico Stephan, Maik Schönheit, Marian Möller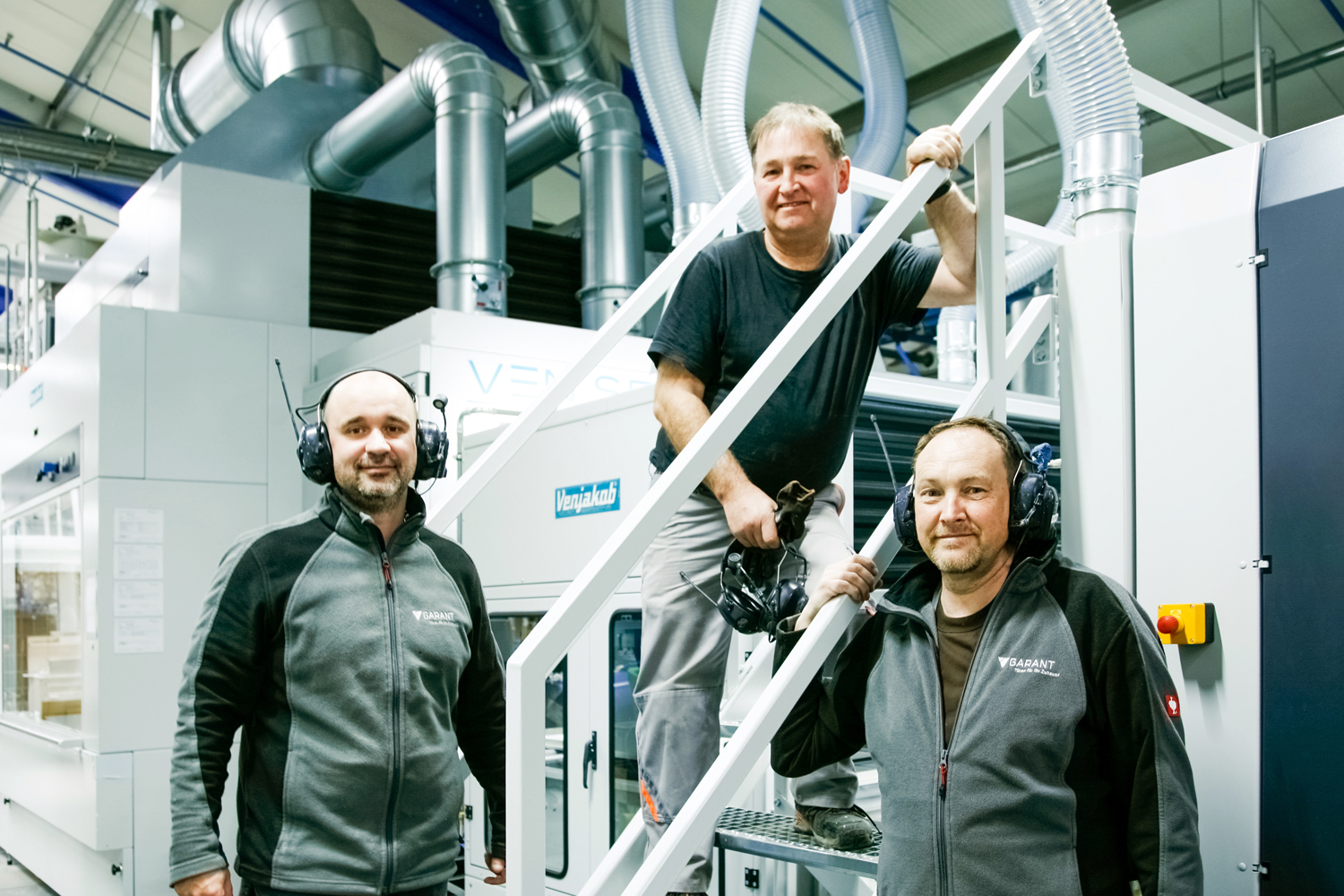 VEN SPRAY PERFECT Automatic spray coating machine with paint recovery, quick color change system and dry extraction, designed for throughfeed speeds of 10 m/min.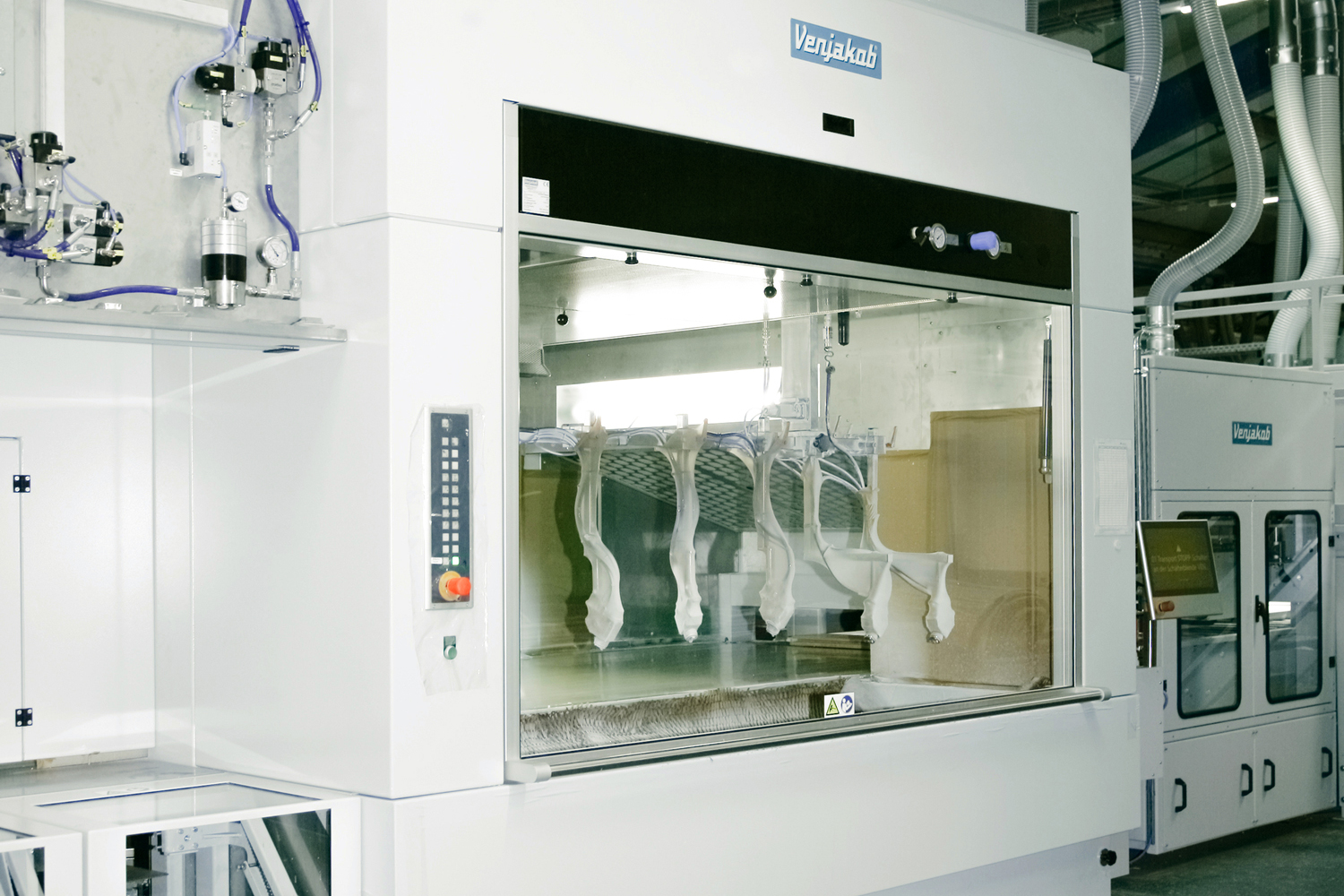 View of the circulating air/humidification unit Integrated air humidification system for highest painting quality and low energy consumption at the same time – saves up to 93% of thermal energy.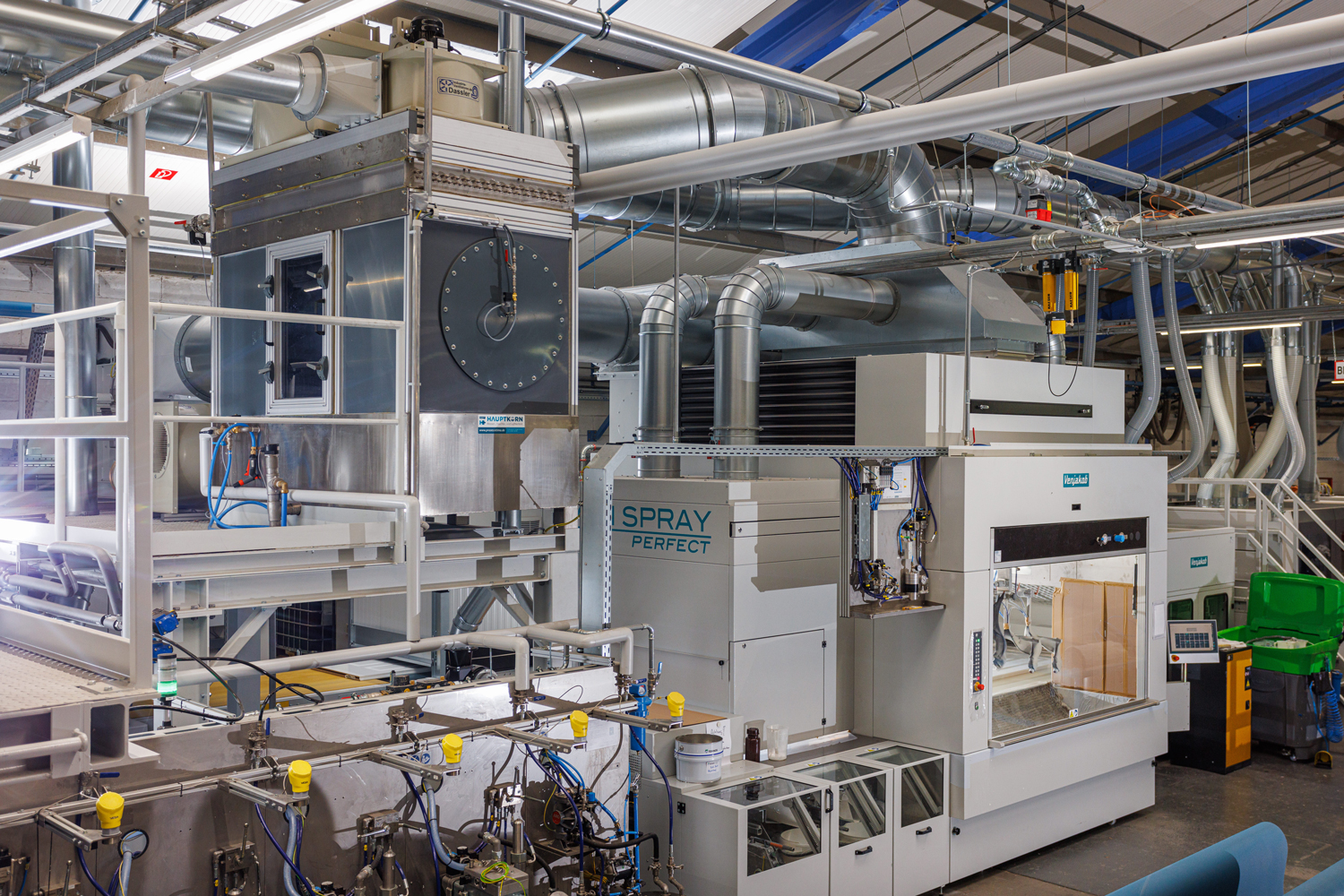 Previous
Next
In 2021, the Garant plant in Amt Wachsenburg in the state of Thuringia/Germany produced around 800,000 doors and 700,000 frames to supply wholesalers and specialist shops. In the future, there should be even more. For this purpose, a new automated "production line spraying robot" with state-of-the-art technologies for energy-efficient production was commissioned. The aim is to increase productivity to safeguard capacity until 2030 without compromising on quality. Since Venjakob, as a well-known manufacturer for surface finishing in the furniture industry, had already successfully integrated a robot cell into an existing painting line for Garant in 2020, the company was also approached for this complex project.
Circulating air mode in itself nothing new
Operating a door finishing system in circulating air mode is nothing new for Venjakob. After all, the use of circulating air can save a lot of heating energy. However, this would be eminently required if the fresh air entering from outside were to be brought to the temperature required for the painting process. "In addition, when using water-based coating materials, as Garant does, the circulating air flow would have had to be cooled, as it continues to heat up, which is not ideal for the coating process. This cooling would have consumed additional energy," explains Christian Streit, Vice President of the devisoon wood and building material plants at Venjakob. The solution now lies in the combination between circulating air technology and a special air treatment system for air moistening. "With the moistening system, we use evaporation cooling and cool the air flow, so to speak, while simultaneously provided additional moisture. By using this combined process of modern circulating air technology and innovative air treatment technology from a partner company specializing in this area, enormous energy savings are achieved," emphasizes Christian Streit. In addition to the spray booth, the combined circulating air system was also designed to provide moistened air to the 10-level dryer. "This allows us to dispense with a separate water circuit for moistening in order to achieve the desired surface quality," says Dirk Wöllner, Plant Manager at Garant.
Saving additional resources
However, the system does not just reduce heating energy and CO2 emissions. "Pollutant levels in wastewater also approach zero. The water discharged from the air treatment system only contains clay particles, no more pollutants," explains Thomas Heinze, the project engineer in charge at Garant. The water-based UV coating material is applied using automatic AirCoat spray guns from surface specialist Wagner. A total of six guns are used: four guns for the faces and vertical edges and two additional guns for the top and bottom edges. The guns are lightweight and compact, and the special design of the air channels ensures fine atomization and reduces overspray. In combination with the high humidity, the application efficiency is increased and less coating material is used. Filter consumption for cleaning is also reduced by 30% to 50%," Christian Streit points out.
Integrated material recovery system
Another technology for increasing sustainability is the integrated Venjakob material recovery system. It consists of a patented V-belt and allows the operating company to recover 90% of the overspray from the conveyor belt. "It's pretty fast," says Christian Streit. The system returns the recovered coating material to a central material container without significant losses due to material drying. The coating material can be reused directly without a decrease in quality. "This can reduce consumption of the coating material used by around 30% compared with other recovery systems," emphasizes Streit.
Quick color change, easy cleaning
Four high-pressure double diaphragm pumps from Wagner are used for the paint supply. Each pump comes with a high-pressure filter and a wall bracket that allows the pump to be mounted horizontally. Compared to normal piston pumps, the special technology of Cobra pumps in combination with the small displacement ensures extremely low pulsation and a uniform material flow. These properties contribute to perfect coating results. Other advantages include fast color changes and easy cleaning.
Spray guns spares bar codes
Garant is very satisfied with the results. "The surface quality is excellent. As early as when the system was first commissioned, we already had better results than with the old system. And that without any process adjustments or fine-tuning," says Dirk Wöllner. Another crucial requirement was end-to-end recognition of the barcode attached at the foot of each door. This means that this barcode had to be protected from paint mist to remain readable throughout the production process. So far, the barcode had been covered manually and the protective strip removed again later. With the new Venjakob system, there was a better solution: the spray guns could be adjusted so precisely that the barcode was spare during coating.
Conclusion: The new door coating system for Garant, in which doors are coated in throughfeed production, is designed – throughout the entire planning and implementation process – to protect the environment and save resources. Innovative processes and proven technologies can reduce the energy balance per unit produced. "In drying technology, the balance improves as production capacity increases. However, due to the total production at the factory, the system is not yet fully utilized," says Wöllner. Thus, as desired by Garant, there is still room for improvement ...